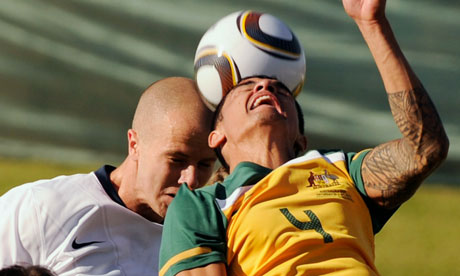 Today is the ceremony of
2010 World Cup
in South Africa. And Tomorrow England VS United Stateds is the first match . We are all looking forward to watch the game. Fans dressed their favorite teams
soccer jerseys
to support.
But will England thrash USA in their first match in South Africa this Saturday? There are two points have defined the lead-up to what some consider the biggest match of group stage.
The first is injuries. The United States have Jozy Altidore healthy, though it is unclear if he is "100 percent." If he is not, the United States will be starting two hobbled players, with a limited Oguchi Onyewu - still coming back from knee surgery - scheduled to start in central defense. And of course, the U.S. is missing Charlie Davies to a long-term injury.
England is in worse shape. Their captain, central defender Rio Ferdinand, suffered a training ground knee injury and was taken off the roster last week. Starting central defender Gareth Barry is out with an ankle injury. Starting goalkeeper David James will be rested with a knee problem.
As much attention has been paid to the U.S.'s injury woes, England has it worse (though those have gotten enough attention, too).
The second big issue defining the big match's build-up: Rivalry, and the U.S.'s interpretation of it. For England, this is not a normal match, but it is certainly less of an affair than it would be if the Three Lions were playing Germany. For the United States, there is no conceivable match-up that would be more important, with some of the supporters' intensity making the lead-up to a Mexico match seem benevolent.
As far as the group dynamics are concerned, the match will not define either's tournament. Both teams are picked to go through regardless of what happens in this match. For U.S. soccer culture, however, this could be a landmark occasion - it's biggest win in sixty years.
If they get it. They are still underdogs - markedly so. However, the gaps between the haves and haves not are closely collapsing, and many people on both sides of the pond might be surprised at just how little space exists between England and the U.S.
Not matter which team will win,as their super fans,we will buy their jerseys to support them. Let us looking forward to the games tomorrow.